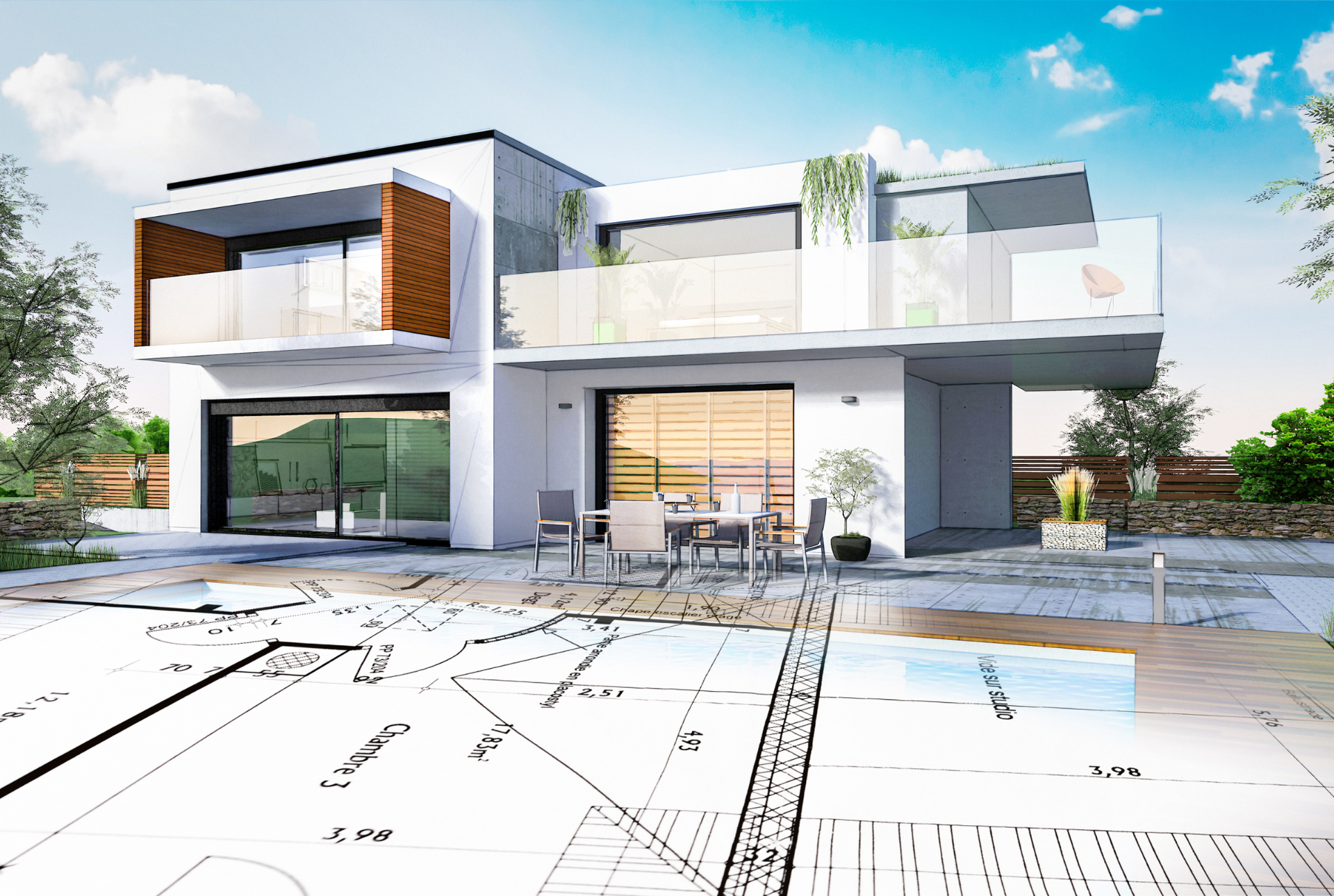 Why 3D design is Important when Renovating a Home in the Bay Area?
June 14, 2022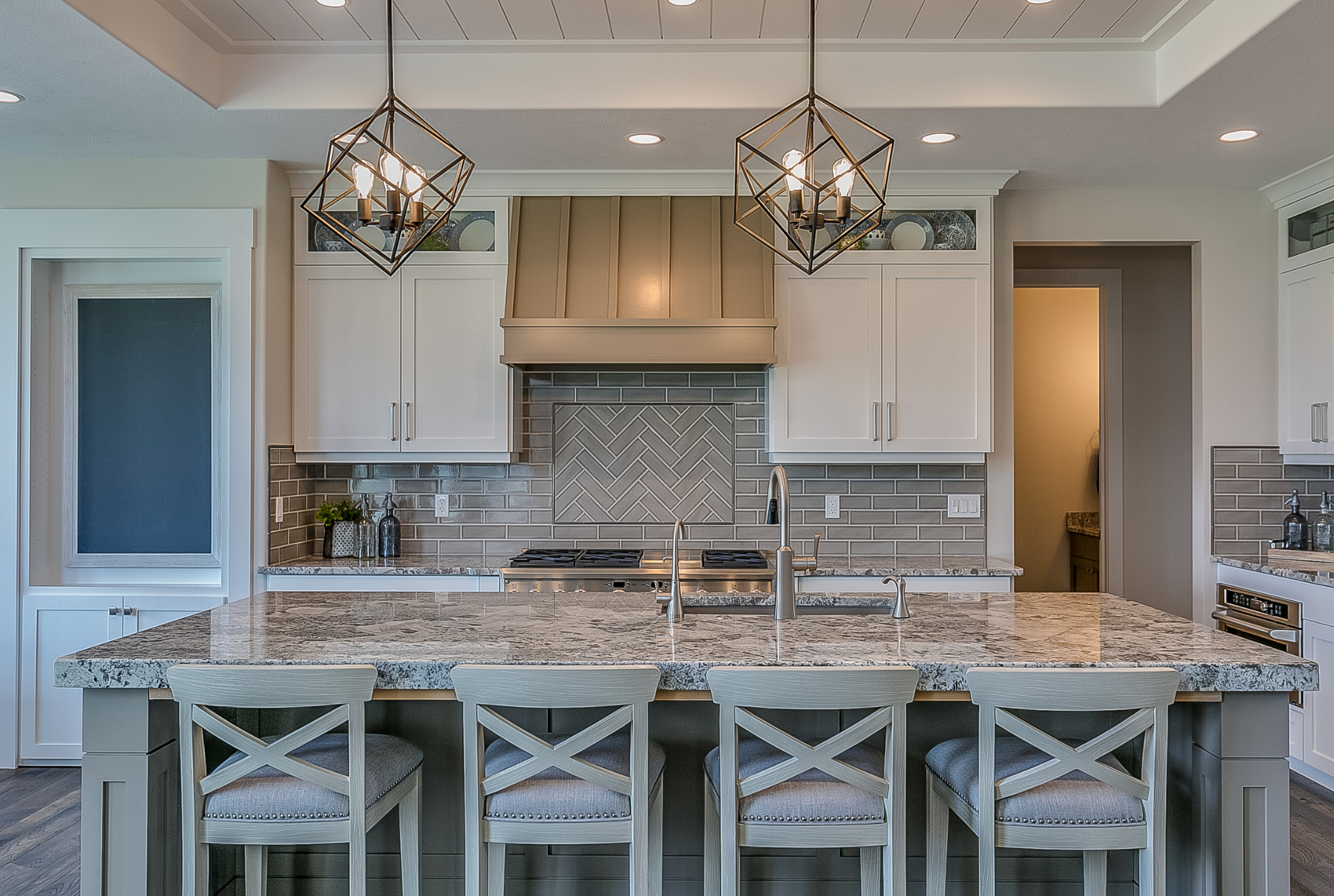 Modern Kitchen Must Have's
June 27, 2022
How To Upgrade Your Bathroom
We still have no idea what's your ideal bathroom, but we do know one thing. If you're here, it means that you have already figured that the modern bathroom is more than a trade or craze, but rather something you should put your focus and efforts into renovating as if we're discussing your bedroom or living room. 
With that in mind, we have gathered some of the most interesting concepts you can use in your new or existing bathroom remodeling project, aimed at granting your new space the title of "Luxury Bathroom."
Here are 7 of our favorite bathroom upgrades and design ideas for the high society, and we can guarantee you that that's only the beginning! Feel free to contact us for more information.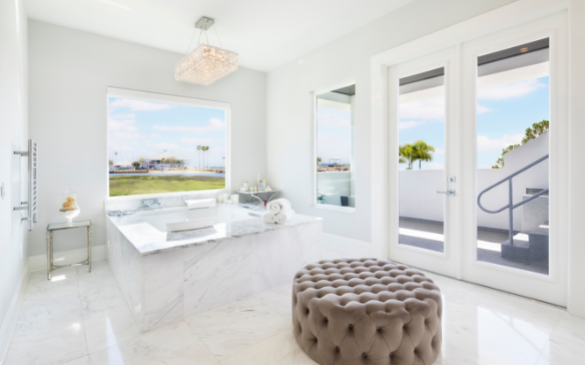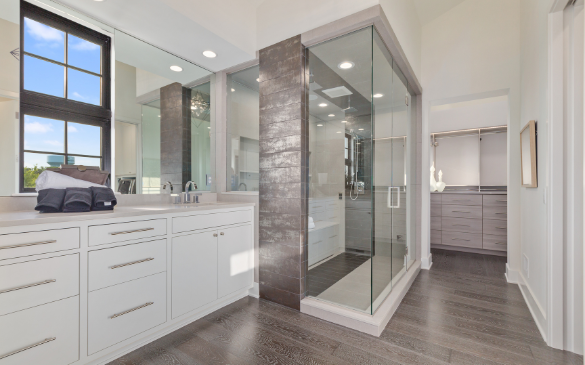 Add Fun with an Entertainment System 
When you spend so much time every day in your bathroom, there are two lessons you can learn from it:
It's best to maximize that time duration's potential
You can enjoy it further!
Implementing a solution such as a TV screen or a music system can help you catch up while visiting the toilet or having an extraordinary bath session. But, don't you know what you should listen to? You can always install a soothing sounds upgrade to calm your day.
Start from the Bottom
Your floor and the lower area of the bathroom as a whole can be boosted dramatically with various additions. Some examples are radiant-heat flooring that can ensure that you'll never suffer from cold feet when taking a shower, followed by tile rugs that can serve as a refined design take that's easy to implement. If we're talking about an atmosphere, try floating vanities that can create an airy feel.  
Take a moment to yourself
When talking about sitting in a bathroom, everyone used to think we were referring to the toilet.
The truth is, there are many options to sit that relate to showering - Such as adding a bathroom bench where you can place your products or reduce your chances of slipping. If you wish to keep grooming yourself without any disturbance, try to include a bathroom sitting where you can dry or comb your hair or just take a moment to relax after a good session.
There's a Shower, and there's a Shower
If you thought that your showerhead was aimed at pouring water on you, you're only in the first tier.
Have you heard about features such as multiple showerheads for maximum efficiency, steam showers that can give you the spa experience without leaving home (This is where a shower bench is a must!), and LED-powered lights are some of the ways you can enjoy a whole new level of showers.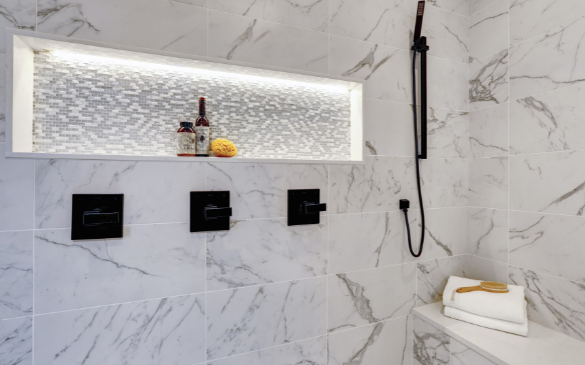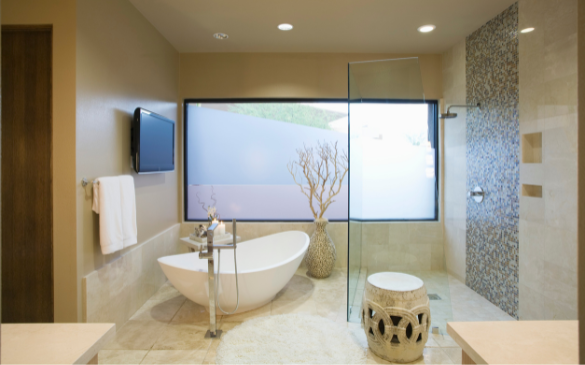 Bring Light into your Life
The easy choice is picking a lamp for your bathroom, but what about the windows?
Adding big windows and even skylights can be a terrific decision (Especially if we're discussing master bathroom design) that'll be appreciated after you enjoy your first sunny day that'll bring natural light to a larger spectrum. If you're worried about any peeping - Don't worry! Today's technology has many options to allow light to come in without worrying about anyone coming with it. 
Do you think about artificial lighting? Here's a recommendation: Try a bathroom-ready chandelier!
Cold? Hot? Your Decision!
Having a vent fan in your bathroom is quite common for modern bathrooms - And if you want to improve the airflow and prevent moisture problems, don't hesitate to ask for it before the project takes momentum. 
That's it? Not quite. Another wonderful addition that much high-society personnel enjoy is a glowing hearth, a wonderful, warming, and soothing option that adds a new level of intimacy. 
Keep it Open with Advanced Storage Solutions
While we grew on bathrooms with minimal storage space (Usually with one drawer and a medicine cabinet), you grew, got more witts, and wondered, "Why?"
We share the same question and have the answer: Today, one can enjoy sophisticated storage options such as cabinets, drawers, pots, and more in varying sizes, patterns, shelves, and more. 
Stop having to go back and forth between rooms and save time while enjoying a neat and tidy bathroom by adding only a few chosen storage elements.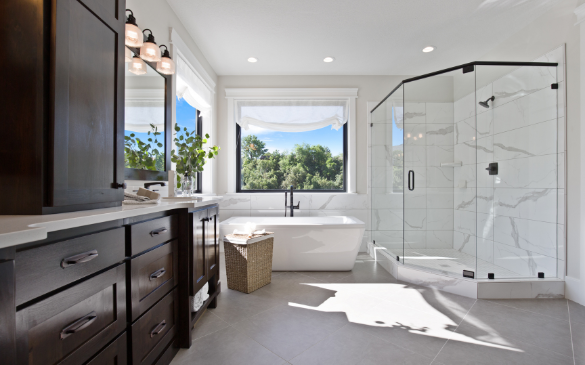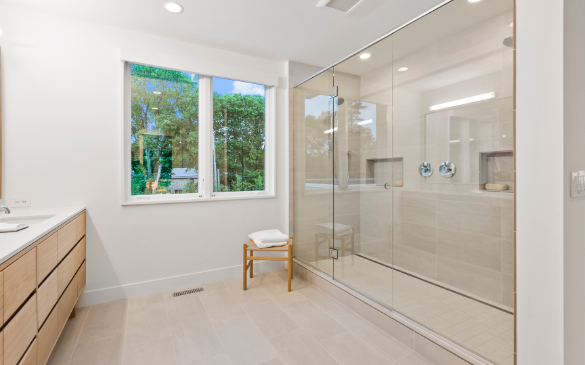 This was a Taste of our Capabilities of Bathroom Remodeling in San Francisco Bay Area
If you're looking for a bathroom renovation company, rest assured because you've reached the right place. Everyone today knows that terms of professionalism, knowledge, portfolio, and experience should be researched first before finding out the bathroom remodeling cost - Because some things matter most when making such an important decision.
At Century Bay Builders, we offer 100% expert teams suited to renovate your bathroom to be as close as you've dreamt about. We will help you reach your goals, help your needs be fulfilled, and include the best tools, technologies, and solutions in the process.
All the things mentioned here can be installed with our help, and we offer many more features you can adopt into your home. Ready to see how? Leave your details below, and one of our experts will contact you ASAP.
At Century Bay Builders, you'll find the experts that can help you create a stunning and unique space according to your taste, budget, and preferences.
Ready to start? Get in touch with us to start planning the home of your dreams.